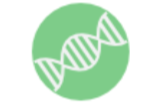 In situ hybridization probes - Genetics
Karyotyping is the isolation, staining and visual examination of chromosomes to find chromosomal rearrangements. Karyotyping is used in prenatal diagnosis (particularly amniocentesis for trisomy 21), investigation of repeat pregnancy loss, investigation of children and adults with features suggestive of a syndrome (dysmorphic features or other associated anomalies, mental retardation, learning disabilities or behavioural anomalies), and subtyping of lymphomas, leukemias and solid tumours for the purpose of exact diagnosis, treatment stratification and prognosis.
Resolution of very small deletions (microdeletions) and small translocations is possible with in situ hybridization (ISH).
The potential of ISH to detect much smaller chromosomal abnormalities than can be detected with karyotyping has already been mentioned. ISH does not require cells to be in the metaphase before analysis, because it relies upon the presence or absence of a fluorescent signal to identify chromosomes or parts of chromosomes, rather than a specific banding pattern. It allows the surveillance of more cells and requires a much smaller sample than karyotyping — even down to a single cell.