Burkitt-like lymphomas diagnostic : new probe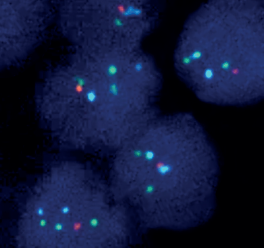 ZytoLight SPEC 11q gain/loss Triple Color Probe

The ZytoLight SPEC 11q gain/loss Triple Color Probe is designed to detect 11q alterations. A subset of lymphomas with gene expression and pathological characteristics of Burkitt lymphomas (BL) but absence of MYC translocation has been recently described which carries 11q proximal gains and telomeric losses.
The current WHO classification introduced this new provisional entity as Burkitt-like lymphoma with 11q aberration. The minimal region of gain (MGR) and loss (MLR) was defined at 11q23.3 and at 11q24.1-q25, respectively.
This new entity/category is defined in the 2016 revision of the WHO Classification of Lymphoid Neoplasms (
Swerdlow et al., 2016
).
| | |
| --- | --- |
| Probe Maps | |
| | |
| | Burkitt-like lymphoma tissue section with 11q aberration as indicated by three green signals and one orange signal indicating the gain and loss at 11q, respectively. |