New Cuvette Spectrophotometer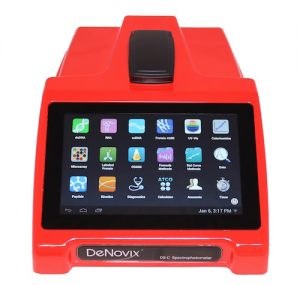 Intuitive, Compact and Stand-Alone
Features :
Android OS with intuitive EasyApps
Outstanding sensitivity and flexibility
Powerful, Versatile data handling
Optional fluorescence module
The DeNovix DS-C Spectrophotometer offers outstanding dynamic range, sensitivity, fleibility and esay-to-use, Built-in EasyApps and our breakthrough Android operating system make the DenoVix DS-C easy to learn and quick to use.
---
Nucleic Acid Quantification


0.04 to 750 ng/µl dsDNA

Protein and Peptide Quantification


0.002 to 37.5 mg/ml BSA

Colorimetric Assays


Bradford, BCA, Lowry, Pierce 660

Kinetic Assays


Fully customizable, 37-45°C

OD600 Microbial Cell Cultures


Optical density and cell/ml calculations
Connect to your results
Built-in Wi-Fi, USB and Ethernet connectivity provide you a wide range of options to share, save and review data to suit all needs. Easily export results to e-mail, network drives and printers, USB drives, LIMS systems and label printers.
Wi-Fi & Ethernet Connection
Safe and easy network integration

Export Options

Email
USB
Network and label printers
Network Drives
Flexible : Upgrade to Fluorescence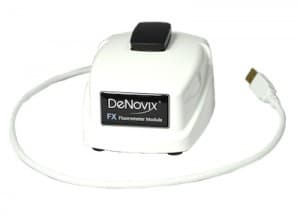 Easily upgrade the DS-C at any time with the
FX Module
to add a best-in-class fluorometer.
Learn more about DeNovix products