ZyBlack™ Quenching solution for FISH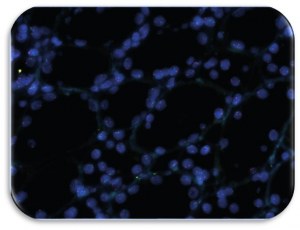 Reduce autofluorescence on in situ hybridization
ZyBlack
Quenching solution reduces autofluorescence
One of the major concerns of Fluorescence
in situ Hybridization (FISH)-based
diagnostic assays is the interference by
autofluorescence. Several types of tissue
tend to emit intense autofluorescence,
including brain, liver, kidney and myocardium,
making it difficult to evaluate FISH
results.
ZyBlack Quenching Solution is a ready-to-
use solution to reduce autofluorescence
on both formaldehyde-fixed paraffin-embedded
and frozen sections.
It can be easily incorporated into the FISH
protocol by applying it after the proteolytic
pretreatment.
ZyBlack Quenching Solution reduces
autofluorescence without adversely affecting
tissue integrity or specific fluorescence
signals.
Tissues with high autofluorescence :
Brain
Liver
Kidney
Myocardium
Without ZyBlack Quenching Solution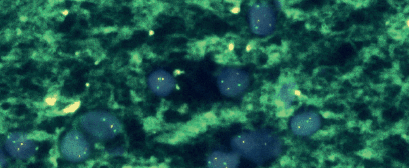 With ZyBlack Quenching Solution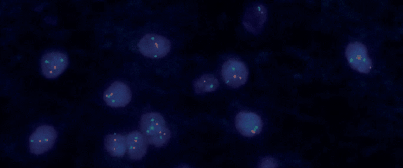 Brain tissue section hybridized with the ZytoLight SPEC 1p36/1q25 Dual Color Probe

| | | |
| --- | --- | --- |
| Product code | Size | Tests |
| BS-0002-8 | 8 ml | 20 tests |
Find all in situ hybridization probes
HERE