Add a physioloical 3rd dimension to your culture !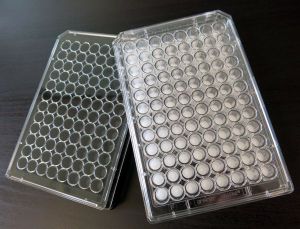 Try Biomimesys -
A natural hydroscaffold for 3D culture -
30% off
Offer n°012020-BIOM valid until 20/02/2020
To better mimic the tissue microenvironment and provide more predictive tools for drug development
BIOMIMESYS® hydroscaffold 3D is the only technology based Hyaluronic Acid (HA) and extracellular matrix compound ready to use.
BIOMIMESYS® is physiological
BIOMIMESYS® hydrascaffold is made of RGDS and galactosamine-grafted Hyaluronic acid, Adipic acid dihydrazide crosslinker and extracellular (ECM) proteins (collagen type I and collagen type IV) to mimic different ECM compositions.

BIOMIMESYS®Liver (on the left) and ECM from decellularized liver (on the right)

BIOMIMESYS® is ready-to-use
Available in a ready-to-use format (96 well plates) it anables the culture of hepatocyes, adipocytes and cancer cells under physiological conditions that are representative of the microenvironment found in tissue.
Cells are simply seeded on top of the hydroscaffold and placed in the incubator
The media can be refreshed easily by pipetting.

Formation of canaliculi network with Actin and MRP2 colocalization

BIOMIMESYS® is compatible with all analitical technologies
TRANSPARENT : Microscopy and plate reader
POROUS : PCR, Western Blot, ELISA
BIODEGRADABLE : Flow cytometry
SOLID : Histology and in vivo transplantation