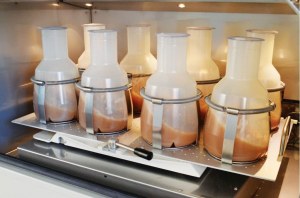 Protein production
Recombinant proteins are widely used as tools for research in biology. Their production requires a certain amount of expertise, even if the development is quite simple and many tools exist on the market.
Protein production is the biotechnological process of producing a specific protein. It is usually obtained by manipulating gene expression in an organism in such a way that it expresses large amounts of a recombinant gene. This includes the transcription of recombinant DNA into messenger RNA (mRNA), the translation of mRNA into polypeptide chains, which are finally folded into functional proteins and can be targeted at specific subcellular or extracellular locations. The next step is the purification of the expressed protein.
The difficulty of protein production depends on the difficulty of assessing and making strategic choices. The questions to be asked are as follows:
Should the protein be expressed as bacteria, yeasts, insect cells or human cells?

Which expression vector should be used?

If this is bacterial production is retained, which dyestuffs should be used?

Do you want to express a whole protein or a piece of protein?

Should the protein be labelled and which marker is most suitable?

What is the right purification strategy?

Since all proteins are different, there is no right answer to these questions. The strategies chosen for the different stages of protein production will depend on various factors such as the protein itself and the use of this protein downstream.